KOKOMO, IN
Kokomo, IN is a 53,000-resident city located in the northern part of central Indiana. Known for its rich automotive history and technological innovations, Kokomo first gathered national attention in the mid to late 1890s during the natural gas boom when Elwood Haynes invented the first gasoline combustion-powered car in America, prompting the opening of several automotive plants and facilities that are still in business today. With a number of automotive attractions and businesses located in the area, the "City of Firsts" now attracts a combination of business and leisure travelers from all over the world.
Download the Kokomo, Indiana app here:
Key Features
Eat/Stay/Play Directories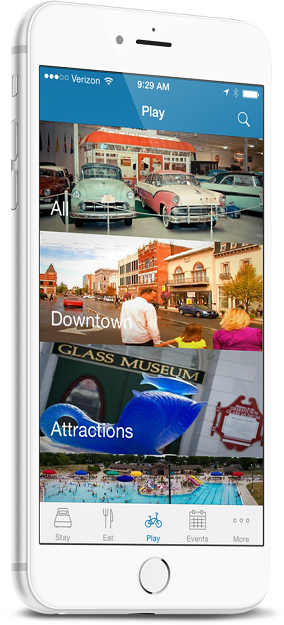 THE CHALLENGE
It was 2011 and, with a goal of increasing its presence to visitors, the Greater Kokomo Visitors Bureau had just dedicated a large advertising budget toward rebranding. With it came new collateral, a new online presence, and a new visitors guide. But Kokomo still needed a way to reach visitors directly while they were in-destination. It was then that the CVB began receiving calls from app developers, prompting Kokomo's exploration of what a mobile app could be used for in tourism and how it could benefit the city.
Eager to be an early adopter of mobile technology, the marketing staff presented the idea of a mobile app to its board, who was excited at the prospect of a new tool that would help visitors find the information they needed in a different way. Kokomo began searching for a local developer, landing on a world-class provider right in its backyard.
"We were very impressed with Bluebridge's vision, service, and personality," said Sherry Matlock, Manager, Greater Kokomo Visitors Bureau. "We asked ourselves 'where are they going to be in a couple of years?' Every year since becoming a customer, there have been new capabilities."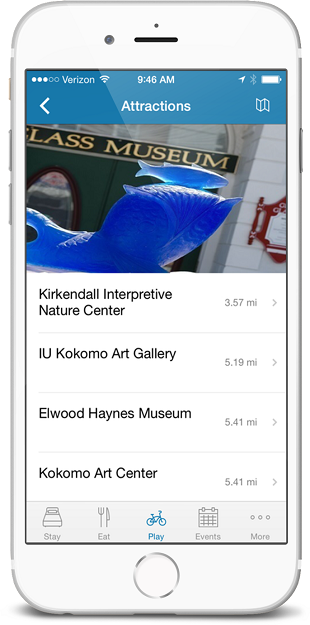 THE SOLUTION
At the same time its website was getting a makeover, the Visitors Bureau engaged Bluebridge to build a mobile app that would also reflect its new branding.
"Building the app was a very customized process," said Matlock. "We had more input in our app development than our website."
With the original goal of providing visitors with guides and directories of local attractions in a digital/mobile way, the Greater Kokomo Visitors Bureau now uses additional features like Near Me and directions, events and calendars, and push notifications to engage app users even further.
"Back then, we anticipated mobile being huge," said Matlock. "It may not have been our original plan in 2011, but having the app has enhanced the visitor's experience. We had no idea about the capabilities we'd have all these years later."
New this year, a downtown category has been added to Kokomo's experience guide in the app, providing a benefit to merchants and people looking for things to do in the buzzing area. Not only is the app used by visitors for finding unique experiences, but residents also use the app to find out what's new around the city.
"When people ask about things to do and places to go, it's easy to direct them to the app since all of the information is in one place," said Matlock. The Greater Kokomo Visitors Bureau strives to promote the app every time they create a new marketing piece, whether digitally on its website or on printed maps and visitors bags. Having an app has been especially helpful to millennials in the area, who have been delighted at the city's mobile presence.
With a number of top automotive companies in the area, Kokomo often attracts interns, new hires, and rotational program participants from across the country who are unfamiliar with the Kokomo area or Indiana at all. Through a hands-on information session with the CVB, new employees learn about the town and what it would be like to settle there long-term.
"At the end of the presentation, I always mention the app so they have a place to review everything I've just said," said Katie Guyer, Manager of Marketing and Communications for Kokomo. "To know that we're technologically advanced enough to have a mobile app really excites them. It resonates."
Kokomo now relies on the app as its "everyday visitor guide," placing less emphasis on the print brochure so content is always fresh and engaging for newcomers. While the Visitors Bureau still regularly shares its printed visitors guide, ads about the mobile app within the guide point people to the most up-to-date content.
"We don't want to reprint the guide every time something changes," said Matlock. "We're relying on the mobile app to quickly make changes."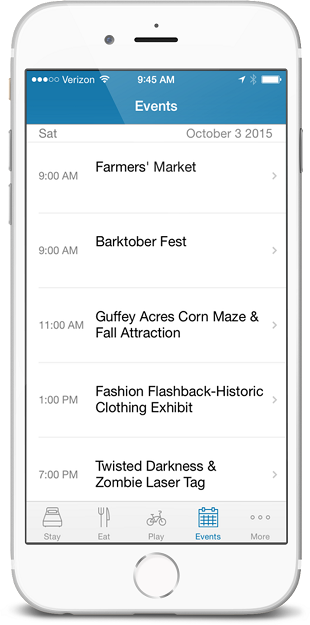 THE RESULTS
With four years of experience managing a mobile app, Matlock advises other CVBs not to view an app as a competing tool to responsive websites or other channels. "We see it as another tool that people can utilize through different features. We focus on how the app functions as part of our overall strategy." Since launching the app, Kokomo has seen results like:
2,000+ visits to their app promotional page
1,624 downloads
More than 11,000 app sessions
Download the Kokomo, Indiana app here: