Keweenaw, MI
Keweenaw Peninsula is the northernmost part of Michigan's Upper Peninsula. Known for its rich history in copper mining, Keweenaw attracts a number of tourists year-round to experience the area's many natural attractions, including crystal clear lakes, 15 waterfalls within driving distance, and nearby Lake Superior.
Download the Keweenaw Peninsula, Michigan app here:
Key Features
Eat/Stay/Play Directories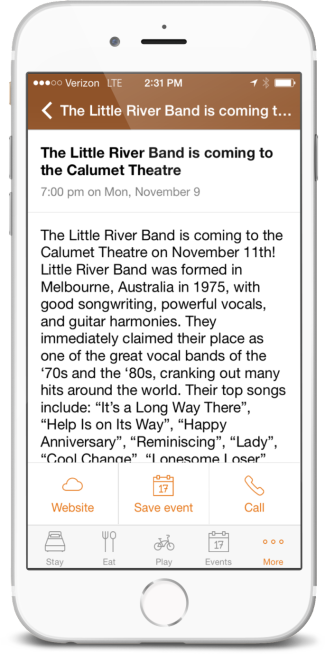 The Challenge
As a new addition to the Keweenaw CVB team, Social Media and Marketing Manager Amanda Oppe understood the importance of reaching the area's visitors in a tech-savvy way. The outdated website and few mediums of digital communications, it was difficult to stay current.
Using the CVB's new slogan "Michigan's Copper Country," Oppe and the team began by revamping Keweenaw's entire website by making it more visually appealing and mobile responsive for any device. In addition, the CVB increased its online presence by sending out bulk emails, focusing on digital advertising instead of print, and targeting the right people through social media.
Even with an easy-to-navigate website, Oppe still knew Keweenaw had to take their presence one step further to where their visitors were. But with a lack of cell and internet connections readily available in the Keweenaw Peninsula, access to their new website and downloadable guides would be harder.
The CVB needed an organized and visually appealing way to give visitors the information they needed in an offline, yet mobile format.
The Solution
With a vision to create a comprehensive tech strategy for the CVB, Oppe knew the organization's next step was to create a mobile app. Despite having just invested in revamping their website, the CVB and its board realized the potential for a mobile app and website that worked together for a complete digital presence.
With the ability to access the app offline, Keweenaw visitors can now get the information they need even in the region's many areas of low connectivity. Even in wooded areas where cell reception is sparse, visitors can use the app to get information and turn-by-turn directions through Keweenaw's many hiking trails. Keweenaw had also been looking for a way to cut its printing costs each year. While they still print a small number of visitors guides, it is now available for digital download on the website and on the app through content that's being updated on a regular basis.
"We can print the Adventure Guide every year, but they're always adding new trails and attractions and we can't reprint every time," said Oppe. "With our app, we can update regularly."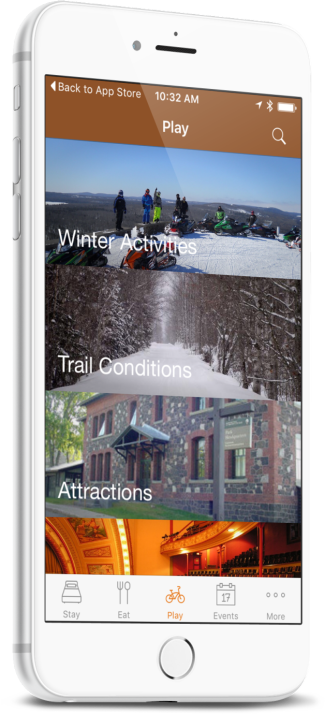 App Promotion Strategy
Keweenaw began by "soft-launching" the new mobile app to its board members first in order to test and ensure content appeared as they intended. In addition, the CVB showed locals, staff, and business owners how to use the app so they could spread the message to visitors.
"The mobile app doesn't just benefit our visitors," said Oppe. "It benefits local residents, business owners, and even our CVB staff."
By launching in the middle of summer when most visitors were in town, the CVB knew they could get the most feedback and impact possible. In addition, Oppe and team realized the value of having a full marketing strategy to promote the app and encourage their digital channels to work together to create a cohesive brand experience for the visitor.
Effective Push Messaging
Having a mobile app also allows Keweenaw to send direct push messages to users for the ultimate connected experience.
"I love how easy it is to update and send out a push," said Oppe. "It literally takes me a few minutes to set up a push, schedule it, and it's done—while email blasts take me a few hours and end up getting lost in recipient inboxes."
The team has even devised a push messaging strategy, complete with a calendar of designated "push days" that coincide with local events that week. Because there are fewer events going on throughout the winter, the CVB uses push to help drive visitor traffic to local businesses through app-exclusive discounts and featured content, which owners appreciate.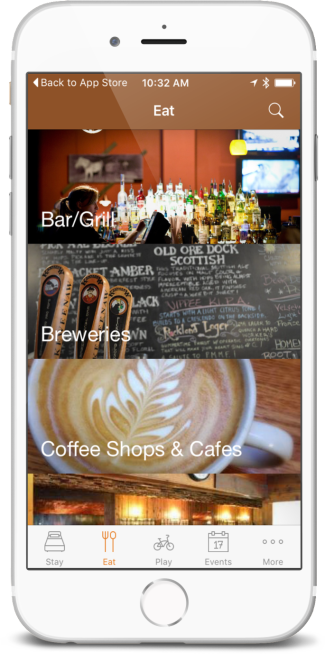 An Award-winning App
Not only does the Keweenaw app provide its users with valuable content on-the-go, but it has also brought its CVB prestige and media attention through the Connected Project Awards at the Michigan Broadband Conference in October 2015. An audience of 400 attendees voted almost unanimously for Keweenaw as the best use case of improving connectivity in their part of the state.
"It was cool for me to see that we're not the only ones who think our app and story is cool—others do too," said Oppe.
Oppe encourages other CVBs to research trends and take a chance on technology.
"It's important for tourism organizations to stay current with technology trends," said Oppe. "The world is changing so much. Eventually, we'll all be on phones or iPads—even computers are getting phased out. We have to adapt through mobile apps."
The Results
In less than six months since launching their app, Keweenaw has seen phenomenal results including:
3,000 app downloads in just three months (120% of goal)
15% increase in website visits since app launch
100 average daily users
Winner of the Connected Project Award or increasing connectivity through its app
Oppe suspects the rise in website visits is due to the increase in digital ads the CVB has been posting with mobile imagery. Between the group's social media outlets, digital campaigns, links to their website, and cross-promotion of the app, both have
been able to flourish in traffic volume.
"The board is very pleased with the success of the app and look forward to what it will bring to our area and our visitors," said Dianne St. Amour, President of the KCVB.
Download the Keweenaw Peninsula, Michigan app here: