HAMILTON COUNTY
Hamilton County Tourism is a visitors bureau located on the north side of Indianapolis, IN. The fastest-growing county in the state in terms of population, Hamilton County is home to unique attractions, historical landmarks, and a community of fabulous people behind the counters of diverse local businesses. Considered more than just a leisure destination, Hamilton County also hosts a number of national amateur sports events throughout the year.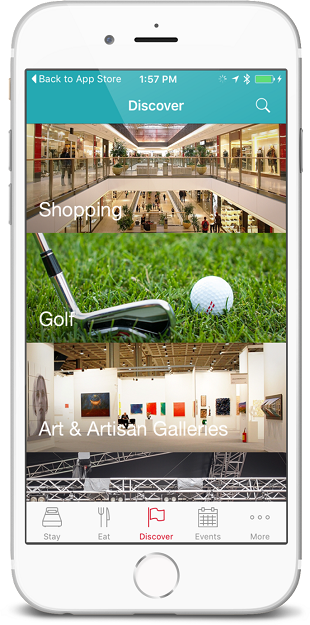 THE CHALLENGE
As a tech-minded organization, Hamilton County had an engaging website and a dedicated mobile site. But they were looking for even more ways to implement new technology and appeal to new audiences. They began exploring a new medium that would highly complement their existing channels—mobile apps.
"We have visitors who come here four to six times per year from other markets," said Ashley Ledford, Director of Marketing and Promotions for Hamilton County Tourism. "An app is easy and convenient for them." They began searching for a provider who would understand their excitement for apps and the need to engage repeat visitors.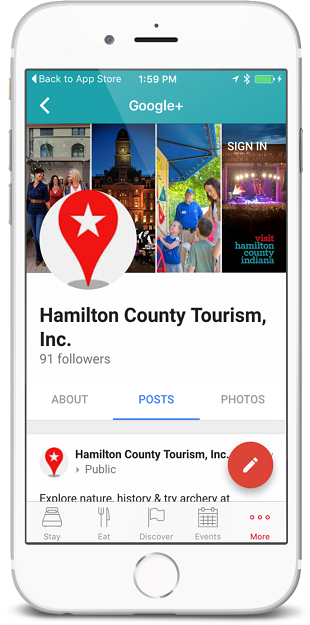 THE SOLUTION
Hamilton County looked no further than their own backyard to implement a world-class mobile app. With Bluebridge (also located in Hamilton County), the organization had a way to reach and engage their extremely large repeat visitor base for leisure activities through an easy and convenient way.
"We went with Bluebridge because of the service they could provide," said Ledford. "Bluebridge understood our excitement, repeat visitors, and the importance of local promotion. They've even made recommendations for how to promote our app out in the market."
Hamilton County used a number of promotional techniques to spread the word about their app, including their website, signage throughout the county, a promotional video, and their very own mobile tourism vehicle, "Pinny." Based off of the map pin image in their logo, Pinny tours in-market attractions and features large TV screens and mounted iPads that allow users to explore the app.
The app's Near Me and directions functionality makes it easy for users to find exciting attractions that are closest to their location.
"I live here, and I use the app on a regular basis," said Kate Burkhardt, Communications Coordinator at Hamilton County Tourism. "Near Me is so convenient because it can guide me to the closest, most exciting attractions." Hamilton County also relies heavily on the calendar and web view functionality within the app. The app can pull in websites of local businesses and attractions so users can view the information natively within the app instead of having to navigate to another screen. "I don't use our mobile site very much anymore," said Ledford. "The app is right there on my phone. It's smooth, easy to navigate, and provides everything I need."